In a world filled with content creators, vloggers, podcasters, musicians, and audio enthusiasts, achieving crystal-clear audio quality with the BOYA BY M1 Mic is paramount. The audio you use may make or break your material, regardless of whether you're making a podcast, a YouTube video, or an interview.
This is where the Clip-on mic comes into its own, providing an excellent yet cost-effective method of recording audio of a high caliber. An in-depth analysis of the BOYA BY M1 Mic features use, and reasons for being the preferred option for many creators will be done in this detailed guide.
What is the BOYA BY M1 Mic?
The BOYA BY M1 Mic is a high-quality, omnidirectional lavalier microphone designed to capture outstanding audio with ease and convenience. This microphone is very easy to carry around, doesn't weigh much, and works well with many different devices. Whether you're an amateur content creator or a seasoned professional, the microphone is tailored to enhance your audio production.
Key Features
Before we dive into the nitty-gritty details, let's take a closer look at the standout features of this Lapel mic: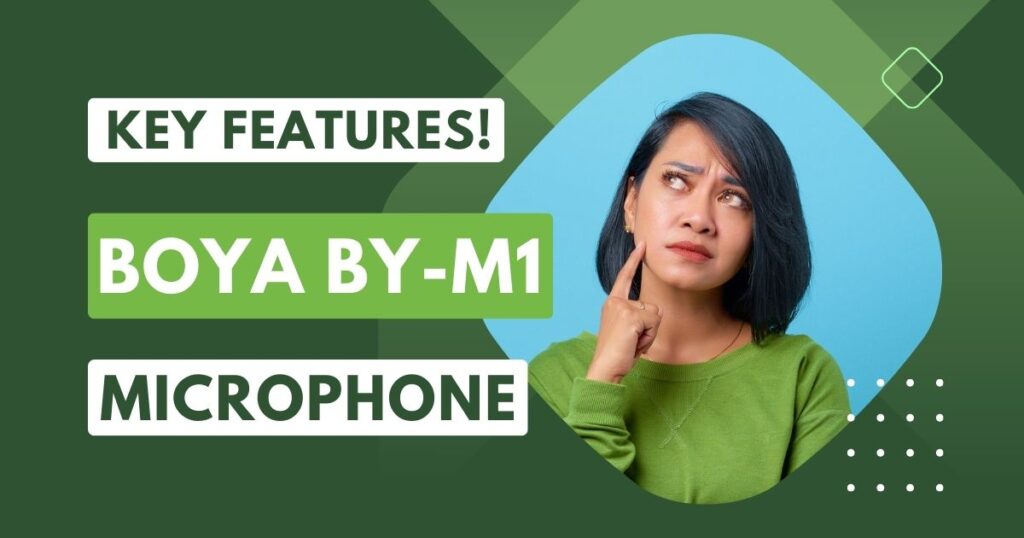 Omnidirectional Pickup Pattern
The BOYA BYM1 Mic features an omnidirectional microphone capsule, which means it captures sound from all directions. This makes it perfect for interviews, vlogs, and any situation where you need to record audio from several sources because it assures that it picks up sounds even.
Versatile Compatibility
Numerous devices, including smartphones, cameras, camcorders, audio recorders, and more, are compatible with the BOYA BY M1 Mic. It is adaptable for a range of recording configurations thanks to its 3.5mm TRRS connector.
High-Quality Sound
The audio produced by this microphone is background noise-free, crystal clear, and of extraordinary sound quality. It records sound with great accuracy.
Long Cable Length
This Wired Lav mic comes with a generous 6-meter (20-foot) cable, providing you with ample room to position the microphone for the best audio capture. This extended cable length is especially useful when you need some distance between the microphone and your recording device.
Build Quality
The BOYA BY M1 Mic is built to withstand the rigors of daily use. Its robust structure ensures a long lifespan thus, making it a useful ally in any circumstance.
The BOYA BY M1 Mic in Action
This Entry-Level Clip mic is like unleashing a tsunami of audio perfection once you start using it. This microphone becomes your dependable partner whether you're making YouTube videos, podcasts, or interviews.
Every word spoken or note played sounds simply amazing because of its astoundingly clear audio capture capabilities and interoperability with a variety of devices. The BOYA BY M1 Mic is a device that raises your content to a new level and ensures that every moment sounds amazing. It is more than just a microphone.
Content Creation
The BOYA BY M1 Mic is a game-changer for any sort of content creator. Whether you're a YouTuber, TikToker, or Instagram influencer, this microphone elevates the audio quality of your videos. Its wide pickup design is ideal for picking up surroundings as well as your voice, giving your recordings more depth and authenticity.
Vlogging
If you're a vlogger, you know that audio quality can make or break your videos. With this BOYA Mic, you can confidently record your vlogs with clear, professional-grade sound. The extended cable allows you to move freely while ensuring your voice remains crisp and uninterrupted.
Interviews
Conducting interviews for your podcast or video content? The BOYA BY M1 Mic's omnidirectional pickup is a lifesaver. It captures both your voice and your interviewee's voice with precision, eliminating the need for bulky recording setups.
Travel Videos
When you're on the go, this BOYA M1 Mic is your ideal companion. Your travel movies will be loaded with high-quality audio thanks to their small size and lengthy cable, which are convenient for carrying around and setting up for filming in different settings.
Podcasting
Due to the popularity of podcasting, audio quality has become a prerequisite for podcasters. With its great sound quality and simplicity of use, this lapel mic perfectly fits into your podcasting setup.
Solo Podcasting
If you're running a solo podcast, this compact condenser microphone can be clipped to your clothing, providing hands-free recording without compromising audio quality. You can concentrate on your subject because it accurately captures your voice.
Interviews and Panel Discussions
Hosting guests or conducting panel discussions on your podcast? The BOYA BY M1 Mic's omnidirectional pickup ensures that all voices are captured evenly, creating a balanced and engaging listening experience for your audience.
BOYA BY M1 VS BOYA BY M1 Pro Audio Test (HINDI)
Music and Audio Recording
A variety of artists and music lovers throughout the world will profit by using this microphone. Whether you're recording the vocals, classical instruments, or field recordings, this microphone delivers music of the highest caliber.
Vocal Recording
When recording vocals, the BOYA M1 Mic shines. Its clear and natural sound reproduction ensures that every note and nuance of your performance is faithfully captured.
Acoustic Instruments
This Lavalier microphone can record the full, authentic sounds of acoustic instruments like the guitar or piano with astounding fidelity. Particularly helpful for capturing instruments in a room or live settings is its omnidirectional pickup pattern.
Field Recording
For capturing environmental sounds, such as nature sounds or street ambiance, the BOYA Mic M1 excels. Due to its sensitivity and capacity to record sounds from all directions, it can be used in a range of field recording applications.
Setting Up the BOYA M1 Mic
To get it ready for use, you need not be a tech expert. This microphone is made to be easy to set up whether you're recording on your smartphone, camera, or computer. You may concentrate on your content rather than the technical details.
Setting up the BOYA BY-M1 Mic is a breeze. Here's how to connect it to your recording device:
Locate the 3.5mm TRRS connector at the end of the mic's cable.
2. Ensure that your recording device (e.g., smartphone, camera, audio recorder) has a 3.5mm TRRS input jack.
3. Insert the mic's connector into the device's input jack.
4. Securely clip the microphone onto your clothing, positioning it close to your mouth for optimal audio capture.
5. Check your device's audio settings to ensure that it recognizes the external microphone.
6. You can now begin recording and start capturing high-quality audio.
Tips for Best Results
To get the most out of your BOYA M1 Mic, consider these tips:
Windscreen
When recording outdoors or in windy conditions, use the included foam windscreen to reduce wind noise and improve audio quality.
Cable Management
To prevent tangles and ensure a clean setup, use cable clips or adhesive cable organizers to secure the microphone cable along your clothing.
Positioning
Experiment with the microphone's placement to find the sweet spot for your voice or the audio source you're capturing. Generally, positioning it about 6-8 inches from your mouth works well.
Monitoring
If possible, use headphones to monitor your audio while recording. This enables you to adjust in real time for the ideal sound output.
BOYA BY-M1 Mic vs. the Competition
No question prevails when comparing the BOYA BY M1 Mic to its rivals. This microphone distinguishes out in a crowded sector thanks to its exceptional audio quality and affordable price. This Lavalier microphone produces crystal-clear audio with ease, while others could leave you fighting with challenging settings and subpar sound.
Comparing Microphones
While the BOYA Mic M1 offers impressive performance, it's essential to consider how it stacks up against other microphones in its category.
BOYA BY M1 Mic vs. Rode SmartLav+
A popular Lavalier microphone noted for its high quality is the Rode SmartLav+. The BOYA M1 Mic, on the other hand, competes favorably by providing comparable sound quality and compatibility at a more affordable price range. Which choice is picked is frequently determined by personal preference and financial limits.
BOYA BY-M1 Mic vs. Audio-Technica ATR3350iS
The Audio-Technica ATR3350iS is another contender in the lavalier microphone market. Both microphones offer good audio quality, but the BOYA Mic M1's extended cable length gives it an edge when you need more distance between the microphone and your recording device.
BOYA BY-M1 Mic vs. Sennheiser ClipMic Digital
The ClipMic Digital lives up to Sennheiser's illustrious history as a manufacturer of audio gear. But those on a tight budget may find the BOYA BY-M1 Mic to be an appealing option because it offers a more affordable option without compromising audio quality.
Your unique requirements and financial situation will ultimately determine which microphone you should choose.
If you're ready to enhance your audio recording capabilities with the BOYA BY M1 Mic, you have several options for purchasing this microphone:
Online Retailers
You can find the BOYA Mic M1 on popular online retailers such as Amazon, B&H, and Adorama. These online stores frequently offer affordable rates and reasonable shipping options.
Local Electronics Stores
Visit your local electronics or audio equipment stores to see if they carry this affordable Lavalier mic. It's always a good idea to inquire about any in-store promotions or bundles that may be available.
BOYA's Official Website
Visit the official BOYA website to find out the most recent details about BOYA products, including the Mic M1. Details about the warranty, customer service, and product specifications are available here.
Here are a few FAQs about the BOYA BY M1 Mic:
What is the BOYA BY M1 Mic, and what makes it stand out?
This is a Lavalier microphone renowned for its exceptional audio quality and versatility. It stands out due to its ability to capture crystal-clear sound and its affordability.
2. Can the BOYA BY M1 Mic reduce background noise during recording?
While the BOYA BY-M1 Mic has a high-quality condenser microphone, it's essential to ensure a quiet recording environment for the best results. You can also use audio editing software to further reduce background noise.
3. Is the BOYA BY M1 Mic suitable for outdoor recording?
Yes, the compact and portable design of this microphone makes it ideal for outdoor recording. However, it's recommended to use a windscreen or foam cover to reduce wind noise.
4. What are the typical applications of the BOYA BY M1 Mic?
This Lavalier microphone is versatile and suitable for various applications, including podcasting, vlogging, interviews, music recording, and more. Its omnidirectional pickup pattern ensures it captures sound from all directions.
5. Can I use the BOYA M1 Mic for live performances?
While this BOYA M1 Mic is primarily designed for recording, it can be used for live performances with the right setup. However, dynamic microphones are typically preferred for live vocals and instruments.
Customer Reviews and Testimonials
To gain a better understanding of the BOYA M1 Mic's performance and user satisfaction, let's take a look at some real customer reviews and testimonials:
User Review #1 – Sarah, Content Creator
"I've been using the BOYA Mic M1 for my YouTube channel for over a year, and it has exceeded my expectations. The audio quality is crystal clear, and the long cable allows me to move around freely during shoots. It's a game-changer for vloggers like me!"
User Review #2 – James, Podcaster
"As a podcaster, audio quality is paramount, and the BOYA Mic M1 delivers. Whether I'm recording solo episodes or conducting interviews, it captures every word with clarity. Plus, it's so easy to set up and use. Highly recommended for podcasters!"
User Review #3 – Alex, Musician
"I use the BOYA Mic M1 for recording vocals and acoustic guitar, and I couldn't be happier. The sound quality is phenomenal, and it's versatile enough to use in different recording scenarios. It's a must-have for any musician on a budget."
Conclusion
In a world where content is king, audio quality reigns supreme. This low-cost clip-on microphone is proof of how adaptable and good at audio capturing it is. This mic is your dependable partner whether you're a content creator, podcaster, musician, or simply someone who values high-quality sound.
This microphone has won a place in the toolkits of numerous creative people due to its wide pickup pattern, compatibility with different devices, and simplicity of usage. Say goodbye to muffled audio and background noise—embrace the BOYA BY M1 Mic and unlock the full potential of your content.
Invest in this budget-friendly Lavalier microphone today, and let your voice be heard like never before. Your audience deserves nothing but the best, and the BOYA BY M1 Mic is here to deliver it.
So, are you ready to take your audio to the next level? Join the ranks of satisfied BOYA BY-M1 Mic users and experience the difference for yourself. It will be well received by your audience and make your content more noticeable than previously.