In a time when content creation is changing and developing swiftly, the introduction of the wireless mic for vlogging has substantially boosted the efficacy and popularity of vlogging. The sound in your videos can make them fantastic or not so great, depending on whether you are an established vlogger or just getting started.
Wireless microphones for vlogging are truly amazing because they give you the freedom to move around and capture those special moments with pristine, crystal-clear audio. Making your vlogging experience more thrilling and interesting is the key! We will try to give you everything you need in order to develop your vlog content and choose the best.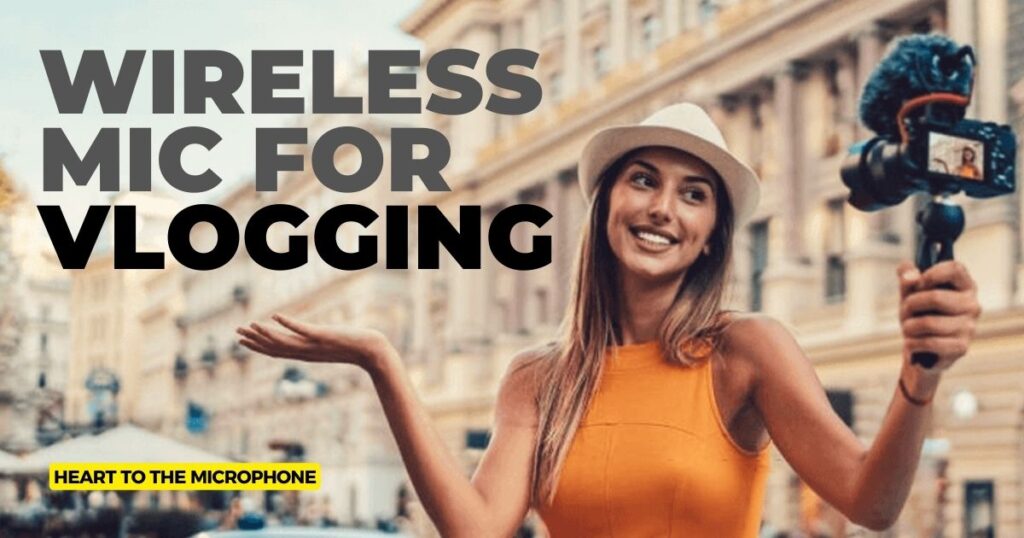 Table of Contents
The Importance of Wireless Mic for Vlogging
When you are vlogging, it's essential to develop a sincere bond with your viewers. You want them to get the impression that they are experiencing everything with you. And one big part of making that connection work is having really clear audio. Imagine watching a video – you want to hear every word, no distractions, right? That's where wireless microphones come in, and they can change the game for your vlogs.
Unlike those older wired microphones, wireless mics have a bunch of cool perks that can seriously boost your vlogging quality. Picture this: no more being stuck with cables. You can move around, use natural gestures, and keep eye contact with the camera. These minute nuances can have a big impact on how people see you.
Think about this situation: you're outside, making your vlog. With a wireless microphone, you're not stuck in one spot. You can walk, explore, and talk like you're having a real chat with your audience. Your vlog looks nice when you walk around like this, but it also gives your viewers the impression that they are right there with you. And don't forget the sound quality – wireless mics make sure your voice sounds crisp and clear, just like the awesome visuals.
So, when you mix the freedom to move, eye contact that pulls people in, and top-notch audio, your vlogs become captivating stories that connect with your audience. With this mixture, you'll be able to establish a unique and particular connection with your visitors.
Essential Features to Consider
Opt for a microphone that minimizes noise and captures sound effectively to ensure clear audio. When considering a wireless mic for vlogging, keep in mind these crucial factors:
Getting the Best Sound
When you're diving into the world of microphones, the ultimate goal is to capture sound that's super clear and natural. So, when you're out shopping for a wireless microphone for your vlogging adventures, keep your ears open for ones that promise top-notch sound quality. Look for the ones that can reproduce sound well, don't let too much background noise sneak in, and can handle the pesky wind noises that can mess up your recordings.
Covering a Bigger Area
Now, think about how far your microphone can reach without losing its signal. This is called its coverage range, and it's something you want to consider. If your microphone has a strong range, you won't have to worry about the quality of your recording even if you move around a lot while you're vlogging. It's like having the freedom to explore without any signal troubles.
The Power that Lasts
Imagine you're right in the middle of a vlog, capturing something awesome, and then suddenly your microphone's battery gives up on you. Talk about frustrating, right? To avoid this kind of buzzkill, it's a smart move to pick a wireless mic that has a battery that can keep up with your vlogging energy. Find one that can last throughout your recording sessions, so you never have to deal with those sudden power drains.
Playing Well with Your Gadgets
Make sure the microphone you choose gets along well with your recording gadgets. Whether you're using a camera, smartphone, or any other piece of equipment, your mic should be a good match. Compatibility is key here – you want your microphone and your devices to work together seamlessly, like a perfect duo.
Keep It Simple
Now let's discuss user-friendliness. You don't want to spend too much time trying to figure out how your microphone works, do you? So, when searching for a wireless mic for vlogging, opt for one that is simple to operate. Find models with controls that make sense and that pair up with your devices without any drama. The last thing you want is to waste time and get frustrated with complicated setups.
Added Convenience
Some wireless microphones come with a bunch of extra goodies, like windshields to protect your sound from the gusts, cases to carry them around safely, and ways to mount them wherever you need them. These extras can make your microphone experience much smoother and more convenient. It's like getting all the useful accessories in one neat package.
Remember, when you're choosing a wireless mic for vlogging, these points can be your guiding light. You're after that awesome sound quality without any complications. Find a wireless microphone that matches your devices, has a battery that won't let you down, and is super easy to use. And hey, if it comes with some cool extras, that's just the cherry on top of the cake!
Here's a List of The Best Wireless Mic for Vlogging Available Online:
Prime Wireless Mics for Vlogging – September 2023
Explore the absolute best wireless mic for vlogging. These top-of-the-line wireless mics will take your vlogging to the next level by giving you superb audio quality for sharing your stories. No more dealing with tangled wires – our handpicked collection of the finest wireless mics for vlogging is all about making your sound experience seamless and amazing.
For those producing audio content for USB-C phones and seeking the best audio quality, the ULANZI J12 Wireless Lavalier Omnidirectional Microphone is a fantastic option. For vlogging, interviews, and other situations needing clear audio without device tethering, this wireless mic for vlogging gives you the flexibility to move about while recording.
Your voice remains clear whether you're speaking into the microphone directly or moving around. The ULANZI J12 is a portable recording buddy that is small and light. Where audio and video quality are excellent, it thrives both inside and outside, complementing content.
Hence, if you want to improve your recording abilities, think about the ULANZI J12 Wireless Lavalier Omnidirectional Microphone.
The Rode Wireless Go II is the finest wireless mic for vlogging because it is a little powerhouse with excellent sound. It is the best option for interesting vlogs and interviews because it records in dual channels. Even in densely populated Wi-Fi zones, it offers a reliable connection thanks to its 2.4GHz digital transmission.
The adaptability of this device is increased by its cutting-edge features, like having two clip-on transmitters. This comes in handy for conducting two-person interviews or exploring creative solo projects. Despite its compact size, it is quite durable for recording purposes when traveling. It simply ranks among the best wireless vlogging microphones on the market right now.
It simply ranks among the best wireless vlogging microphones on the market right now.
The Hollyland Lark M1 Wireless Lavalier Microphone, in particular, is a game-changer for creating films, interviews, or any other content where high-quality audio is necessary. By becoming wireless, you can do away with wires and movement limits. Feel free to record for flexible shots. With the dual-channel configuration, a wireless mic for vlogging performs well because it is appropriate for multi-voice situations like interviews.
When recording, the Hollyland Lark M1 excels at reducing ambient noise. Compared to built-in microphones, its covert Lavalier microphone offers a crisper, richer audio quality.
The Hollyland Lark M1 wordless Lavalier Microphone is an excellent option as a result, especially if you need a wireless mic for vlogging.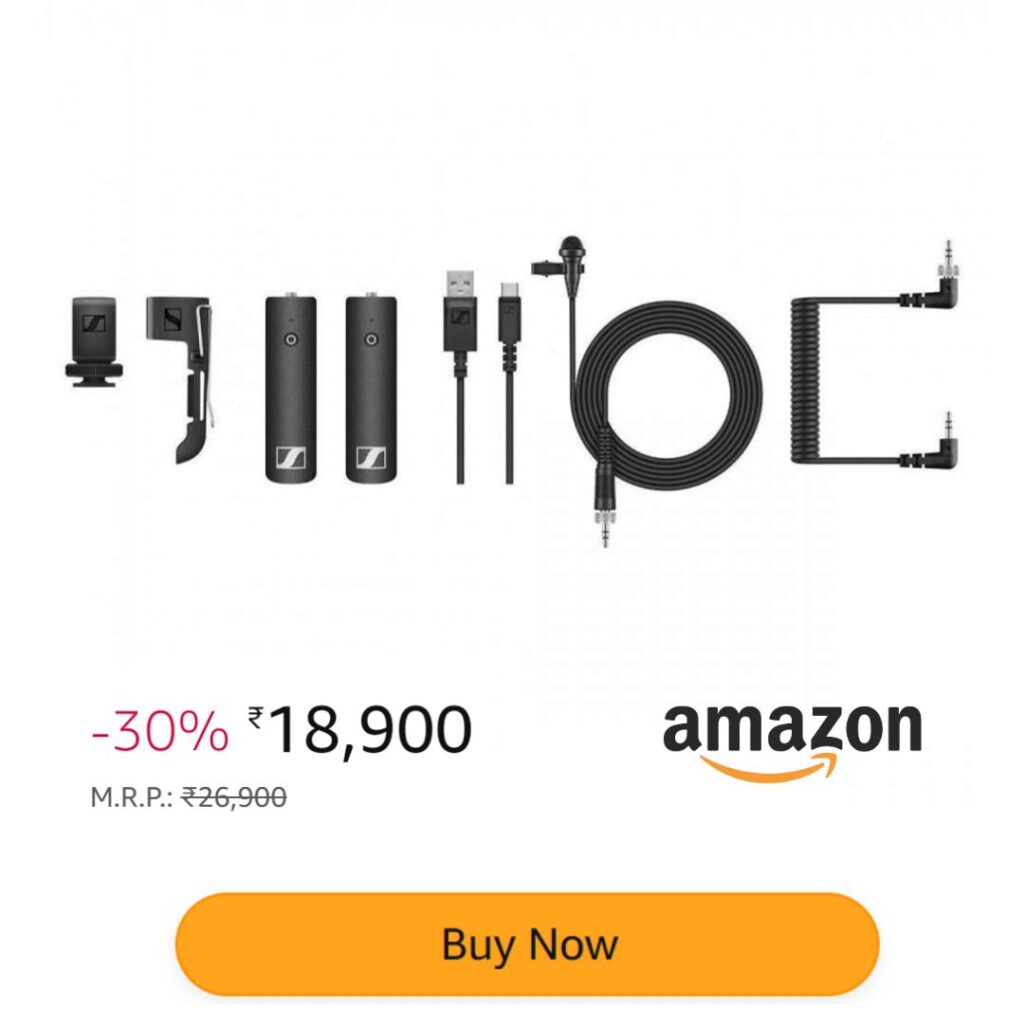 The Sennheiser XSW-D Portable Lavalier Set with the ME2 wireless mic for vlogging. If you're delving into video creation, vlogs, interviews, or any content requiring exceptional audio, this product will quickly become your favorite. Attach the discreet ME2 Lavalier mic and you're ready. Any situation is suitable for its small design.
You may move freely thanks to the lack of cords with this wireless microphone setup. Easy to use—just plug, clip, and play. Sturdy build for reliable on-the-go use. Elevate audio quality with the Sennheiser XSW-D Portable Lavalier Set. Your audience will notice the difference. Whether you're interviewing, presenting, or vlogging, capture your moments with high-quality audio. The power of clear audio is in your hands.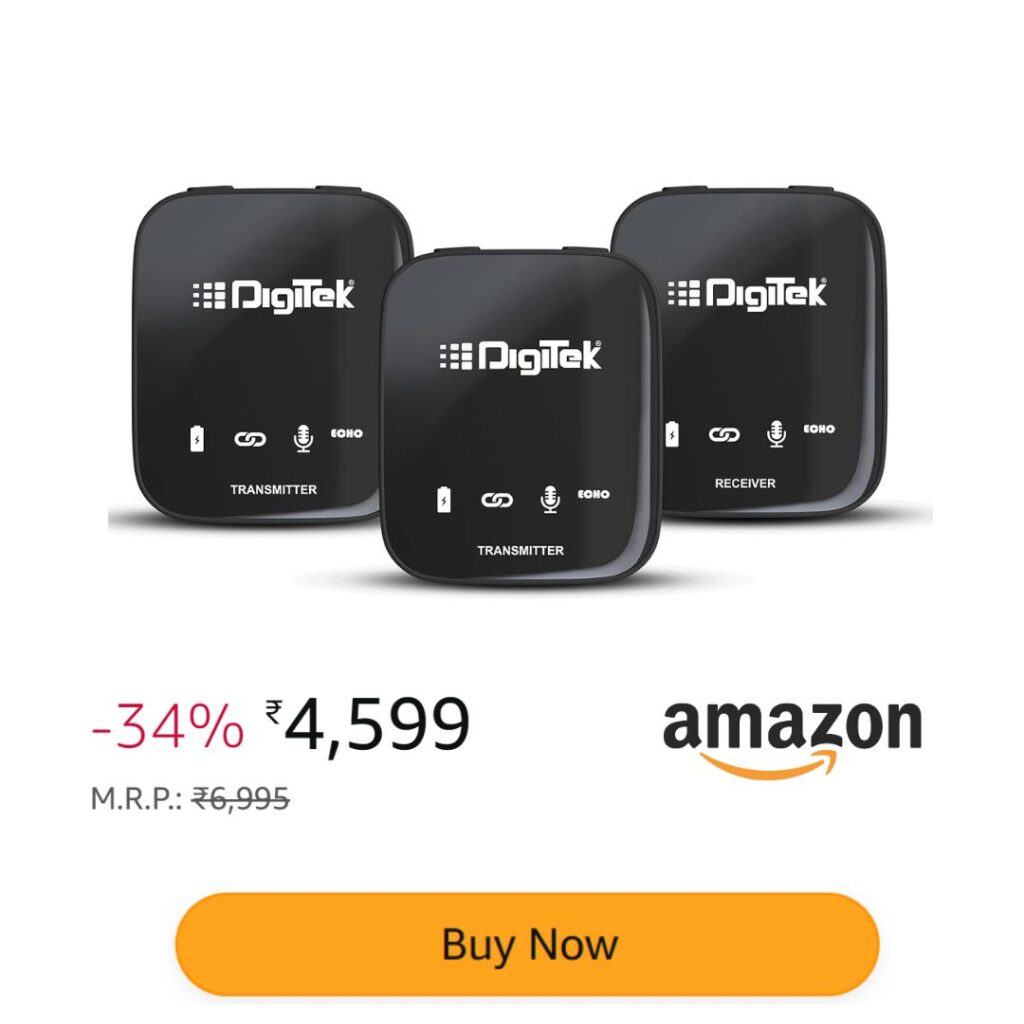 Discover the Digitek Wireless Microphone System, specifically the DWM 101 model, perfect for photography, videography, and superior smartphone or tablet audio capture. DSLRs, camcorders, telephones, and tablets are all compatible with it, and it smoothly adapts to your gadgets. The Digitek DWM 101 prioritizes clear and professional audio quality.
Ideal for interviews, vlogs, and various videos, it aims to match visual excellence with impressive sound. Even if you're not tech-savvy, the setup is intuitive—plug it in for improved audio recording. Elevate your content creation by amplifying your audio prowess with the Digitek Wireless Microphone System (DWM 101). Make use of this practical tool to raise the audio quality and level of your content.
Your clearest asset is the DJI Mic Wireless Microphone System, which has no restrictions or cable clutter. In addition to enabling twin mics for smooth discussions, it ensures great sound in a variety of settings, including interviews and vlogs.
Whether you're shooting with your smartphone, camera, or laptop, this wireless mic for vlogging system has got you covered.It can be used with whatever device you are comfortable with because it is flexible and adjustable.
This microphone setup is made to be portable and light. Whether you're an experienced content creator or a novice, don't hesitate to try out this wireless mic for vlogging system.
Your audience will thank you for the outstanding sound quality.
With our Deal of the Day, you're covered! Enjoy a huge discount on a hand-picked selection of premium wireless microphones for a very short period of time. To have a quick look, click on the button below ▼
Rode vs. DJI Wireless: A Comparison (Hindi)
Setting Up Your Wireless Mic for Vlogging
Your wireless vlogging microphone is simple to set up. Check the audio after unpacking, reading the manual, charging if necessary, and syncing with your camera. Easily add professional sound to your vlogs to elevate them.
Syncing
For most wireless mics used in vlogging, a straightforward syncing process is necessary between the wireless mic transmitter and the recording device receiver. Adhering to the manufacturer's instructions is paramount to ensuring a successful wireless mic for vlogging. To ensure high-quality audio, wireless microphones depend on synchronizing.
The microphone (transmitter) and recording equipment (receiver) are aligned throughout this phase to ensure a reliable wireless mic for vlogging. It's essential to follow the manufacturer's directions for success with your wireless mic for vlogging. So, whether you're presenting, performing, or podcasting, synchronization with your wireless mic for vlogging guarantees that your message is heard clearly.
Testing Audio Levels
Check your wireless mic briefly to make sure it is functioning properly before starting your vlog. It functions as a small sound check to ensure that your audio is flawless. Listen for any strange sounds or issues. And here's a tip: change the recording device settings if something sounds excessively loud or fuzzy.
By doing this, audio clipping—a cracking noise—is less likely to occur. By paying a little care to your audio in the beginning, you can ensure that your vlog sounds incredibly smooth and professional right away.
Real-Time Monitoring
A wireless mic for vlogging serves as your audio assistant, closely resembling a real-time auditory companion. You create a direct connection to this technology by donning headphones. Imagine subjecting your audience's auditory experience to an examination. This exceptional quality enables you to accurately predict what your audience will think, making it easier to spot any flaws or adjustments that are required right away.
It parallels the concept of having an immediate feedback loop at your disposal, enabling on-the-fly audio adjustments. Thanks to this invaluable tool, you can ensure that the audio quality of your vlog remains impeccably clear right from the outset.
Tips for Optimal Audio
When editing content captured with a wireless mic for vlogging, be mindful of the audio levels and make sure they go well with your pictures. The viewer's experience is enhanced by a well-balanced audiovisual presentation. Accept continuous learning and improvement if you want to master the skill of creating exceptional audio that engages your audience.
Choose Your Space Wisely
Select locations away from busy streets or congested areas for your audio recording to achieve the best results. These calm environments not only muffle bothersome noises but also provide a more professional atmosphere. A microphone windscreen can make the difference between immaculate audio and a distracting breeze when recording outside. The clarity and impact of your audio are protected by a carefully designed setting and the appropriate technology, improving the overall caliber of your content.
Maintain Visual Connectivity
When setting up your wireless mic for vlogging, ensure that there are no more than a few obstructions in the signal path between the transmitter and receiver. Avoid positioning heavy objects, metal barriers, or walls directly in the line of sight, as they can diminish the signal's quality. To maintain a steady flow of high-quality audio transmission and to preempt any unexpected signal disruptions, regularly examine and fine-tune the configuration, particularly in dynamic situations.
Backup Batteries
Before your vlogging sessions, make it a priority to perform a routine battery check on your wireless mic for vlogging to avoid unexpected power failures during crucial moments. Having a portable power bank as a backup can provide an extra level of safeguarding, especially for extended recording durations. Remember that a thoughtfully devised power strategy ensures the sustained functionality of your equipment, allowing your recordings to proceed smoothly and uninterrupted as intended.
Conclusion
In the dynamic realm of vlogging, impeccable audio quality facilitated by a wireless mic for vlogging is non-negotiable. By assimilating the vital features to seek and delving into the premier models available in September 2023, you'll be equipped to make an informed decision that propels your vlogging journey to new heights.
Wireless mics for vlogging have revolutionized how content creators engage with their audiences, offering unparalleled freedom of movement combined with top-notch audio performance.
Remember, the ideal wireless mic is not merely an accessory – it's a tool that empowers you to craft compelling, professional-grade content, leaving an indelible impression on your audience.
FAQs – Top Wireless Mic for Vlogging (September 2023)
1. What are the top wireless microphones for vlogging this September?
Curious about the best wireless microphones you can use for vlogging this month? We've got you covered.
2. Why should I even think about using a wireless microphone for vlogging?
Wireless microphones are pretty cool for vlogging. They let you move around without getting tangled up in wires and make sure your vlogs sound nice and clear.
3. Will these microphones work with any vlogging camera out there?
Most of these wireless microphones can connect to different cameras, but it's smart to double-check if they're buddies with your specific camera before you buy.
4. How far can these wireless microphones reach?
You might wonder how far you can wander with these mics. Well, different ones have different ranges, usually around X to Y feet, giving you some recording freedom.
5. How can I make sure the audio sounds really good when using these microphones?
To get the best audio quality, you should position the microphone just right, avoid things that mess with the sound, and adjust the settings based on where you are.
DISCLAIMER: The information provided is based on the state of the market in September 2023 and might be subject to changes. Always check the latest reviews and specifications before making a purchase.